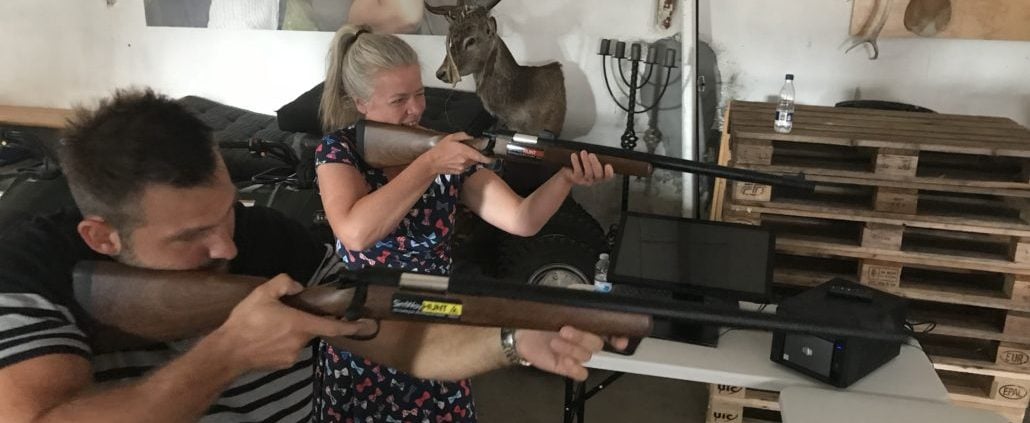 Shooting with lasers, fun and entertaining
Tikiøb Event has many different ideas when it comes to the big and small activities that make up the bouquet of events. Often, it is when you combine multiple small activities that the greater bigger production comes to life.
In this post, we will focus on one of these activities – welcome to Shooting with lasers.
Shooting with lasers makes everyone smile
Shooting with lasers is an entertaining activity that uses modern technology to challenge the participants in the art of precision. It is done by shooting with fake guns against a canvas. We typically practice by shooting disks in a western environment but the challenge of shooting clay pigeons is also quite popular. The activity is safe and does not need special supervision as it is required when shooting real clay pigeons. This makes Shooting with lasers quite flexible.
Shooting with lasers can be used as an internal competition on your given team or as a team activity to gather points in order to beat other teams. Shooting with lasers can also be used as a fun break.
The gear used is mobile and can be used almost everywhere as long as there are 3,5 meters to the roof. The preparation time at the location is 45 minutes. Shooting with lasers also works well outside.
Driving Quad bikes and Shooting with lasers
Our quad bikes are one of our grand activities especially since we have 125-hectare mixed forest and land area at our disposal. Shooting with lasers is often used in combination with driving our  quad bikes. You can find texts, pictures, and videos on the site if you want more information regarding our Quad bike events.
We gladly help with organizing the event
Is it you that holds the responsibility for the next corporate event? Then you are more than welcome to contact us directly for further information. We also happily come with suggestions and ideas for a possible program from start to finish. With more than 25 years of experience in the business, we usually have a great solution for exactly your specific company.
https://tikioeb-event.dk/wp-content/uploads/Tikiøb-Event-Laser-Skydning_Teambuilding-1030x773.jpg
773
1030
Jesper Tikiøb
https://tikioeb-event.dk/wp-content/uploads/Tikioeb-Event_logo_aflangt_webtop_Tegnebraet-1.png
Jesper Tikiøb
2019-09-19 16:57:45
2019-11-27 14:44:23
Shooting with lasers, fun and entertaining